LARGE SIZE


OPTIPRO-PSA(For G4 Model)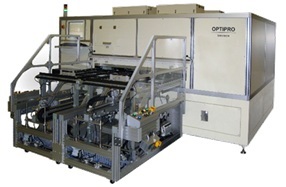 PSA(Polymer Sustained Alignment) cell is Less the process.
It makes any pre-tilt angle without design change,fast time-response, and
The alignment is more stable against the external force.
It can make any pre-tilt angle by controlling applied voltage and UV irradiation level.
OPTIPRO-PSA can measure mainly pretilt and cell gap on high arccuracy and high speed.
Spot size
3mm
Outer size
W3300mm × D2400mm × H1700mm
Sample maximum size
W700mm × D900mm
Feature
Faster measurement. < 10sec. / point
Stability. 3σ< 0.05 degree
It's independent from operator.
It's independent from measured points.
It can adapt to larger size panel.
It's only can measure CPA cells.
It covers transflective LCDs.